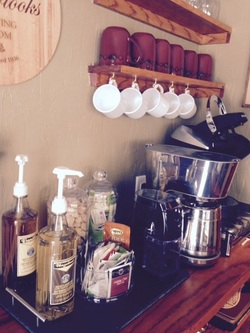 Our guests love our coffee bar. Some might say...why make changes when everything is great. Maybe they are right, but we don't think so.... We are constantly looking for ways to improve the experience of our guests. So what's changed?

We've added a new Keurig Coffee Machine, new Starbucks coffee syrups and several different kinds of sugars including imported brown sugar cubes.

These additions complement our regular coffee machine, waffle maker, toaster, coffee grinder, complementary coffee, tea and creamers.

We also offer a thermos, cooler and picnic backpack for our guest to use during their stay.

If you haven't done it yet, please book your next Estes Park vacation at The Overlook. You won't be disappointed!!!!!!