One of the top attractions/activities in Estes is the rental of scooters. At first I was skeptical. The idea of one more underpowered vehicle on the road scared me. Bikes, RVs, etc. already clog our little town. Nevertheless, our visitors go on, and on about their experience exploring Estes and the surrounding area on a scooter. If you visit, you really should consider renting one of these things or signing up for a guided tour. However, after nearly 45 years riding motorcycles, I was unable to even consider the possibilities a scooter might provide. Nevertheless, after much research, I discovered one of the most interesting and talked about trends in motorcycles ... the much smaller monkey bike called the Honda Grom. In fact, if you have the inclination, do a little research on Utube or the internet and you will discover how big this tiny motorcycle following really is. Its kind of like the tiny house phenomenon. So guess what. I bought one to evaluate this mini trend and use it to explore and blog about things in and around Estes. Let me first say these things are small. They are also slow. Not as slow as a scooter, but slow. They say they can reach 60 mph...but this must be going down hill, with a wind behind you, and a 10 year old Thailand girl riding. Why Thailand? Because this is where they are made. Luckily my wife, Karen, is tiny. It is actually possible for us both to fit on this mini monster. Below are some of our pictures from the first 100 miles on our Grom. Enjoy.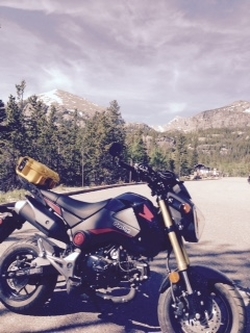 Grom at Glacier Gorge. This is a popular spot within RMNP to begin your hiking adventure. The parking lot is relatively small and fills up early. As you drive from the Overlook into RMNP you will first pass Sprague Lake, then Glacier Gorge and the road ends at Bear Lake. There is horse back riding at Sprague Lake.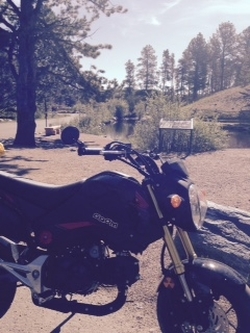 The Grom at Sprague Lake. Sprague Lake is in RMNP and about 20 minutes away from the Overlook. It is a great lake for small children or people with hiking limitations. There is a very flat path around the lake. It only takes about 15 minutes to walk around the lake and has great views. This is a popular spot for fly fishing lessons.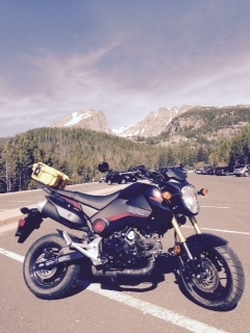 Grom at Bear Lake. This is in RMNP and about 35 minutes from the Overlook. Bear Lake is just off the parking lot, has a very flat path around the lake, and very scenic. There are many additional longer hikes that begin at this trailhead. Be sure to arrive early. The parking lot fills early. There is also a bus that takes you to this stop. You can catch the bus near the Overlook...just about 1/4 mile away. This is also a great place to snowshoe in the winter.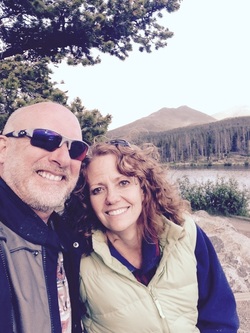 Last night we rode the Grom to Sprague Lake and enjoyed a picnic at sunset. It was perfect weather. While it was 95 in Denver, it was in the 60s at Sprague Lake. Be sure to take peanuts. There are lots of hungry chipmunks and squirrels around. There are several spots to sit and enjoy the scenery. There are several spots with picnic tables. There are bathrooms at this spot. While we were there, a wedding was being performed. It is a popular place for weddings.